So what should you include in a tech pack?
Anything relevant and essential to achieving the end result you're looking for. The more clarity in your vision, the more relevant information you should have to add. This includes how you want it put together, color information, fabric, lace, and trim info, sizing, and specs -- the works!
Below are the most critical pages I recommend starting with, but there is no 100% perfect formula. The most important part is that you make the pages that make sense for your product. If you need another page to explain how something works or functions, add it and give more context. Keep in mind that the target audience might not be native English speakers. Use clear, direct, and concise language, and don't flex your thesaurus here. The simplest explanation is the best explanation.
SKETCHES + CONSTRUCTION PAGE: The main focus of this page is your sketches and callouts. I usually make this the first page in my tech pack as it has a large image of the sketches and all the relevant info in the header.
If you're making a bra or swimsuit, it's great to have interior & exterior sketches to really help your factory understand what is going on in there. There are so many components and aspects to address these types of styles, so detail is helpful! You can also make major style callouts and comments on this page to really drive the points home.
If you're making regular ready-to-wear, it's not as necessary to add internal sketches, but it definitely can help. Adding the interior sketch is always a great idea if you are trying to execute with as much accuracy as possible, and you are pretty confident about how the interior should work and look. If you're not sure, you can either wing it and see what the factory returns with or chat with a fashion professional that might be able to give you some better direction.
DETAILS + INSPIRATION: On this page, you will want to focus on any smaller detail areas that are hard to show off in the central sketch. You might want an image or drawing that explains the construction and anything that might not be completely clear from the other sketches. Use arrows to call out important details in small spaces.
I also use this page to include inspiration images that might help make the whole concept clear. Crop images if you want to focus on one detail and explain why you're including it. Be specific, but concise.
BILL OF MATERIALS (BOMs): Often referred to as BOMs, this stands for Bill of Materials, and it's pretty much exactly as its name suggests. It's a list of every material that makes up the garment. It also gives factories an area to add an estimation of the consumption for each item on the list.
The consumption for fabrics, laces, and elastics is more open-ended, so your factory might need to give you that information post-sampling. For things like rings, sliders, hook & eye tape, bows, and some other trims, you can add how many go into each garment, the size and specs of each trim, and inspirational pictures. Etsy is a great place to look for those, especially under the supplies section. There are also other bra and swimwear-making sites that can be helpful for sourcing as well.
The goal of this page is to understand exactly what you need to make it and to get a better understanding of cost based on material usage. The factories will add their own estimations for how much elastic it will take as well as fabric usage. Building this page in advance gives them a quick reference for costing, and it gives you a deeper understanding of everything that will go into your garment.
POINTS OF MEASURE (POMs): Another acronym, (get ready because there are tons!!) this stands for Points of Measure. This is a page where you diagram and explain where the measurements of each garment are taken, end to end. This is how you will eventually call out the specs to the factory with the next sheet. By giving the factories these points of measure, you make it crystal clear where they should measure, so you are both aligned. It also helps to avoid any inconsistencies.
The easiest way to add these visuals to your sketch is through adobe illustrator. If you create the POMs as an extra layer, you can make it very easy to add or remove them whenever necessary. I like to make them different colors with the POM number and line matching together to create extra ease when figuring out which line is which. If you don't have access to adobe illustrator, I'd suggest asking the person who made your initial sketch to do it. As a last resort, you could add arrows in Excel, but you would want to be SUPER clear on the language parts because your drawing won't be as specific as this one.
FIT + COSTING SPECS: Specs are the measurement specifications of a particular point of measure. This is arranged in a list format in excel, usually with 10-20 total specs for each garment. They follow the POMs and include the measurement description (how to measure) to make everything consistent and easy to follow.
This page is where you decide what your points of measure will look like. I recommend having several different samples to reference back and forth while making decisions here. This might be a mix of competitor samples that you bought to reference, personal samples you like, and guesstimations based on the styling, fabric, and fit you're aiming for. You aren't looking for perfection here, close enough is okay. If your specs are very far off, hopefully, your factory will catch it and help work through the possibilities.
Another aspect to consider is that the specs will also be dependent on the size you plan to sample in. This is also relative to Fit and the Fit Model you decide to go with. We'll cover this a little later on in a future post, so if you haven't signed up to get our emails, sign up at the bottom of this post!
FIT COMMENTS: Unless you are starting from a purchased sample, this page will be empty, to begin with. I like to set it up so that the manufacturer knows how to expect our comments to come. It also makes it easier for you when the samples come in.
fit-comments-in-a-tech-pack
For tech packs that I create, I set them up with two sections. The first section is for the comments regarding the construction methods, components, and techniques. The other is where put the actual fit comments, and I also add a POM if there is one to go back to.
To make fit comments as clear and concise as possible, I try to keep the below structure in mind when writing them out:
explain the problem

+

action to fix it

+

location

+

measurement
For instance, if your neckline was too long, we might say: neckline too long, reduce by 1/2" total
You might also add the blending point if necessary. You'd want to use a blending point to describe a change that happens differently from one point to another. So you might say 'CF neckline is too tall, shorten it by 1/2", blending to 1" at the armhole. That would mean you're planning to lower the armhole by 1", but the center front (CF) will drop 1/2"
GRADED SPECS: A crucial area to consider! Grading is how your product changes from size to size. Each POM has its very own way it grows or shrinks, sometimes you might grade it by ½" and other times, maybe not at all.
Some brands grade 1" on the flat across all sizes, which would be the same as 2" total around the body. Others will grade in a split size method, meaning they adjust the smaller sizes on a slightly different, smaller scale and the larger ones a bit bigger. This usually looks like a 2" increase or decrease in circumference for sizes XXS-M or L, and then 3" increase or decrease in circumference for sizes M/L-3XL+.
The reason some brands do split-size grading is because of the concept that smaller sizes see changes more quickly with smaller measurements. The larger the body measurements get, the more you need to see a more significant difference in specs to feel the difference. This is also because larger sizes have more unique tissue distribution, so you want to plan for extra ease and comfort, too!
There is no right or wrong way to grade, the most important thing to remember is to remain consistent! If you often change your grading rules, your customers will become confused about what size they fit into and might worry about your consistency. Once you decide to follow grade rules, try to stick to them for at least 3-4 deliveries to see how your returns look.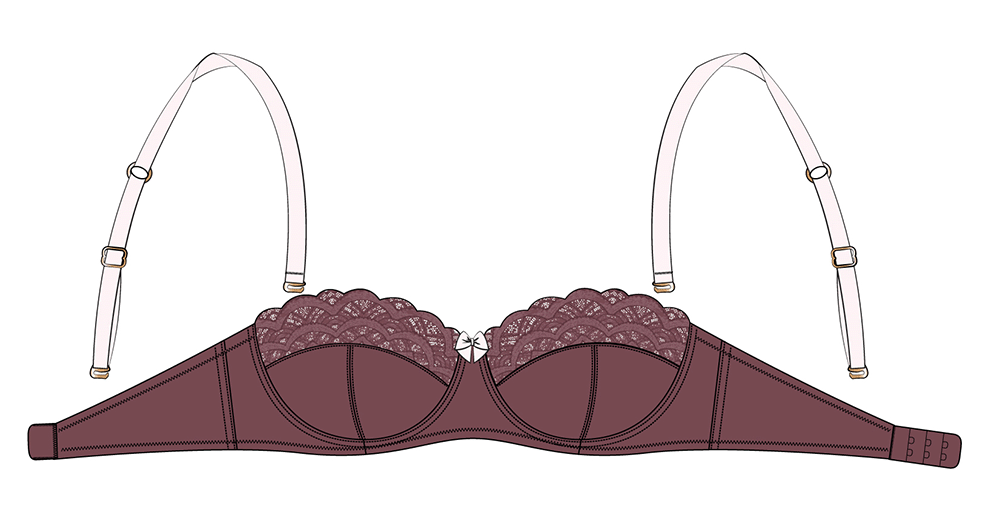 COLORWAYS: Another page that might not be a top priority in the beginning, but is useful to consider and remember. This page will indicate the colorways for your garments. You might be creating something simple colorway, maybe everything is all the same color. In fashion, that would be called 'Dyed To Match' or DTM for short. Even if this is the case, having a colorway page is still helpful to have once you have a clear idea of your colorway options.
Another way to consider this page is that it's very similar to your BOM page, but it adds an extra layer to it by identifying and calling out precisely what color each component will be for every colorway. This extra step helps add clarity and put you and your manufacturers on the same page, so don't forget it even if it's not a priority in the beginning!
LABELS + TRIMS: This page is not super necessary to be 100% complete in the early stages, though it's not something you want to forget. Considering your garment might be up against the body, comfort is key! Consider going tagless and doing heat seals instead of ribbon labels. Even if you aren't sure of the artwork you want to use in the beginning, give the factory an idea of what you're planning to do, and it'll help them get you an accurate cost quote at the beginning of the process.
This page displays any extra trims, labels, and items you might need to include in your garment BEYOND what makes the product itself. So this is not the actual fabric, laces, trims, and components, but labels, care tags, and branding you add to the garment after the fact for packaging or sale.
What could be considered a label or trim type of item:
Brand Labels: Usually heat seals or sewn-in ribbon labels

Care labels: Usually heat seals or sewing in ribbon labels

Brand Tags: Cardstock labels swift-tacked to the garment

Any special threads or tags you want to include: Some brands use thick embroidery threads or ribbons to attach their labels instead of plastic.

Additional packaging requirements: These will vary based on how you sell your products.

Individual packaging: Do you need a polybag? Hangers? Do you multi-pack? Do you require paper balls for molded cups, etc, etc
Okay, that's a wrap. If you need to, feel free to add extra pages that make sense for your product, but try to use this as a core model for future development.
Hopefully, now you know what to include in your tech packs and how to set them up. Our tech pack template will be available to download shortly. Sign up for emails to get all the latest details about our blog posts + what's going on in fashion!
Want to learn how to create factory-ready garment tech packs?
Sign up for the Tech Pack Toolkit course today! Learn more below. 👇👇👇